Republicans Win Back the House. Will They Control Gold Prices Too?
The U.S. mid-term elections are over. What does it mean for gold prices?
Republicans have won back control of the House of Representatives. It's a great success of the conservatives and a major loss for the Democrats. "Americans are ready for a new direction, and House Republicans are ready to deliver," Kevin McCarthy, a likely new Speaker of the House said on Twitter.
On the other hand, the Republicans' performance was much worse than expected. There was no red wave and the Democrats kept the control of the Senate (they lead 50 seats to 49, and even if the Republicans win the remaining race in Georgia, Vice-President Kamala Harris will be able to cast a tie-breaking vote). Importantly, the Trump-backed candidates "underperformed", which reduces Trump's odds in the next presidential race.
The results will allow the Republicans to launch congressional investigations against President Biden (you can expect a probe into Hunter Biden's businesses and possibly also into the withdrawal of troops from Afghanistan or Covid-19 policies). They also imply that Biden's legislative agenda is practically dead. The Republicans could also try to cut the U.S. aid to Ukraine.
Implications for Gold
What does it all mean for the gold market? Well, the fundamental impact of the elections on the gold seems to be mixed . On the one hand, taking control of the House by the Republicans means the end of Biden's extravagant fiscal policy. The normalization of spending could be negative for gold prices.
However, if it weakens consumer inflation and the Fed's tightening cycle , it could actually be positive for the yellow metal. What's more, we could see temporary government shutdowns and also some international chaos if Republicans try to reduce America's support for Ukraine. It could also provide some support for gold prices. Recently, the yellow metal rallied , as the chart below shows, but it was more related to the decrease in inflation and softened expectations of the interest rates path.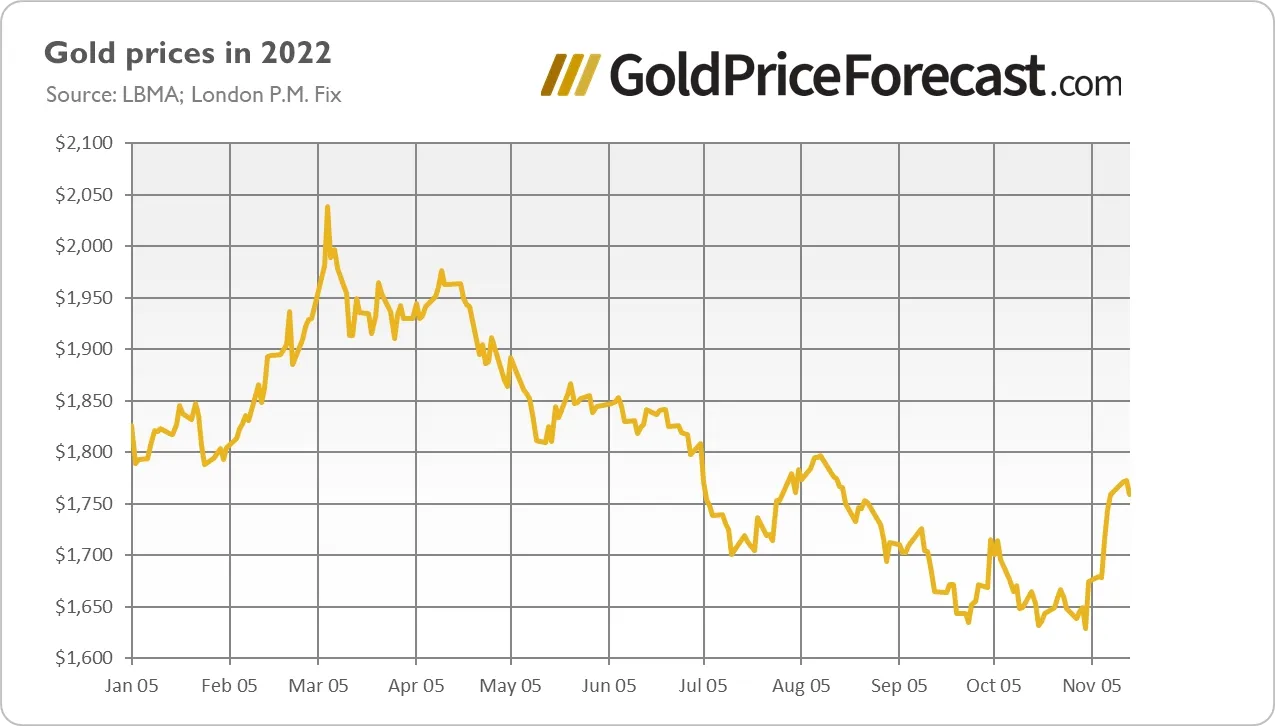 The rally could continue and even strengthen when the Fed ends hiking interest rates . It can happen in the upcoming months; later during 2023, we could even see cuts in the federal funds rate . This is why the next year should be better for the yellow metal. However, another downward move, especially after the recent rally, wouldn't be surprising.
Arkadiusz Sieron, PhD