Will Gold Fly on Russian Missiles?
Russian missiles allegedly hit Poland, a NATO member. Will we see a retaliation – and gold's rally?
On Tuesday (November 15, 2022) Russia launched a big wave of missile attacks on Ukraine. It probably was a barbaric and desperate response to Ukraine's recapture of Kherson. According to the Associated Press , some missiles crossed into Poland, killing two people.
It's potentially breaking news. Why? If confirmed, it would mean that Russian weapons came down on a NATO country . It could imply a significant escalation of the international situation. And I don't mean that Poland could interpret this accident as an intentional attack (it's possible that it was an accident or that the missiles were shot down by Ukraine, which changed their trajectory) and retaliate.
The stake is much bigger. As a reminder, according to NATO's Article 5, an armed attack against one member state is to be considered an armed attack against the whole alliance. Thus, upon such an attack, each member state is obliged to take actions deemed necessary against the attacker. After Russia's invasion of Ukraine, President Biden reaffirmed that the US would keep its NATO commitment, including Article 5. Hence, although I don't believe it will happen, if things get out of control, we could see a full-scale war between NATO and Russia. Given that both sides have nukes, such an escalation could be potentially catastrophic for the world.
Implications for Gold
What does it all mean for the gold market? Well, gold has been in an upward trend recently. Its price increased to almost $1,770 on Monday, as the chart below shows.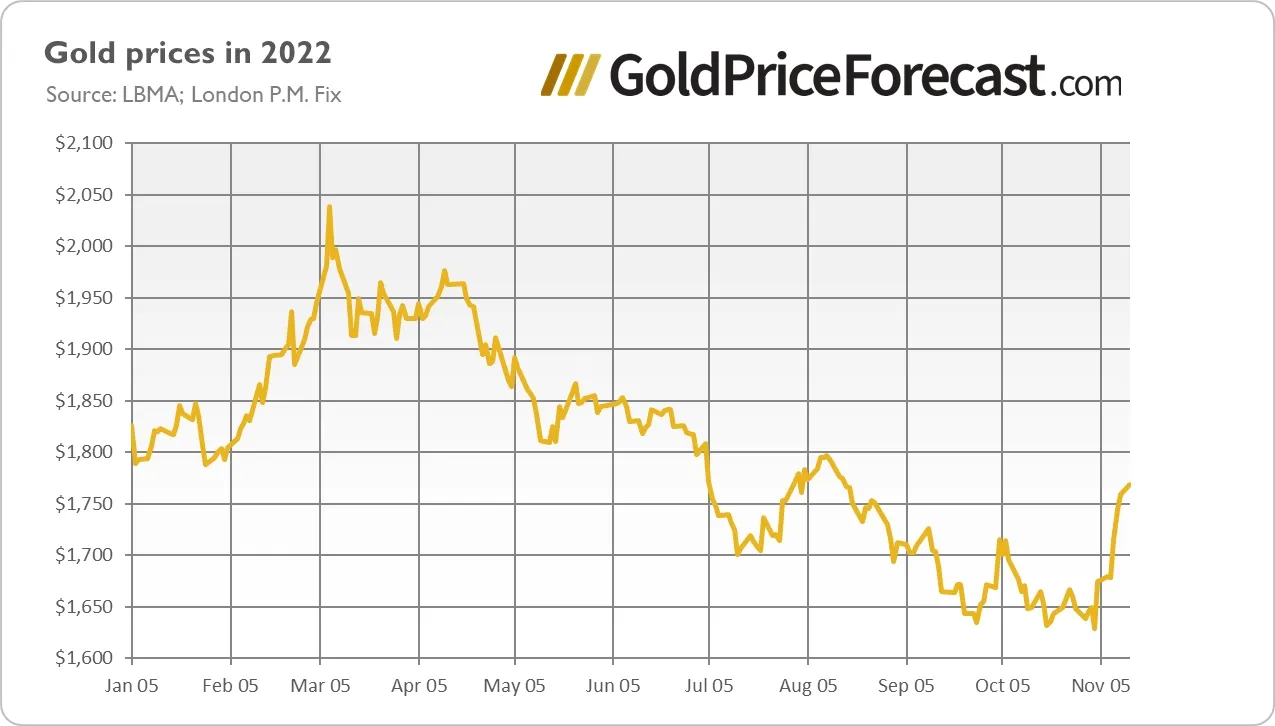 And it continued its rally also on Tuesday . In response to the media reports on Russian missiles in Poland, gold prices jumped to about $1,792 (December Comex gold futures). It receded later from this level, but the potential escalation could support the gold prices in the near future. As always, I wouldn't count on the geopolitical factors as a long-term bullish factor in the gold market (as they generally exert only a temporary effect, if any). However, they won't hurt gold either, unless the result of the potential escalation would be higher inflation and a more hawkish Fed, which seems unlikely to me.
Thank you.
Arkadiusz Sieron, PhD