Daily Gold News: Nov. 21 – Gold Price is Below $1,750 Again
The yellow metal extends its short-term downtrend on stronger U.S. dollar.
The gold futures contract lost 0.49% on Friday, November 18, as it extended a short-term downtrend and a downward correction of the recent rally. On Tuesday it reached new medium-term high of $1,791.80, but it reversed lower following Russia-Ukraine conflict news. This morning gold price is going lower following strengthening U.S. dollar, as we can see on the daily chart (the chart includes today's intraday data):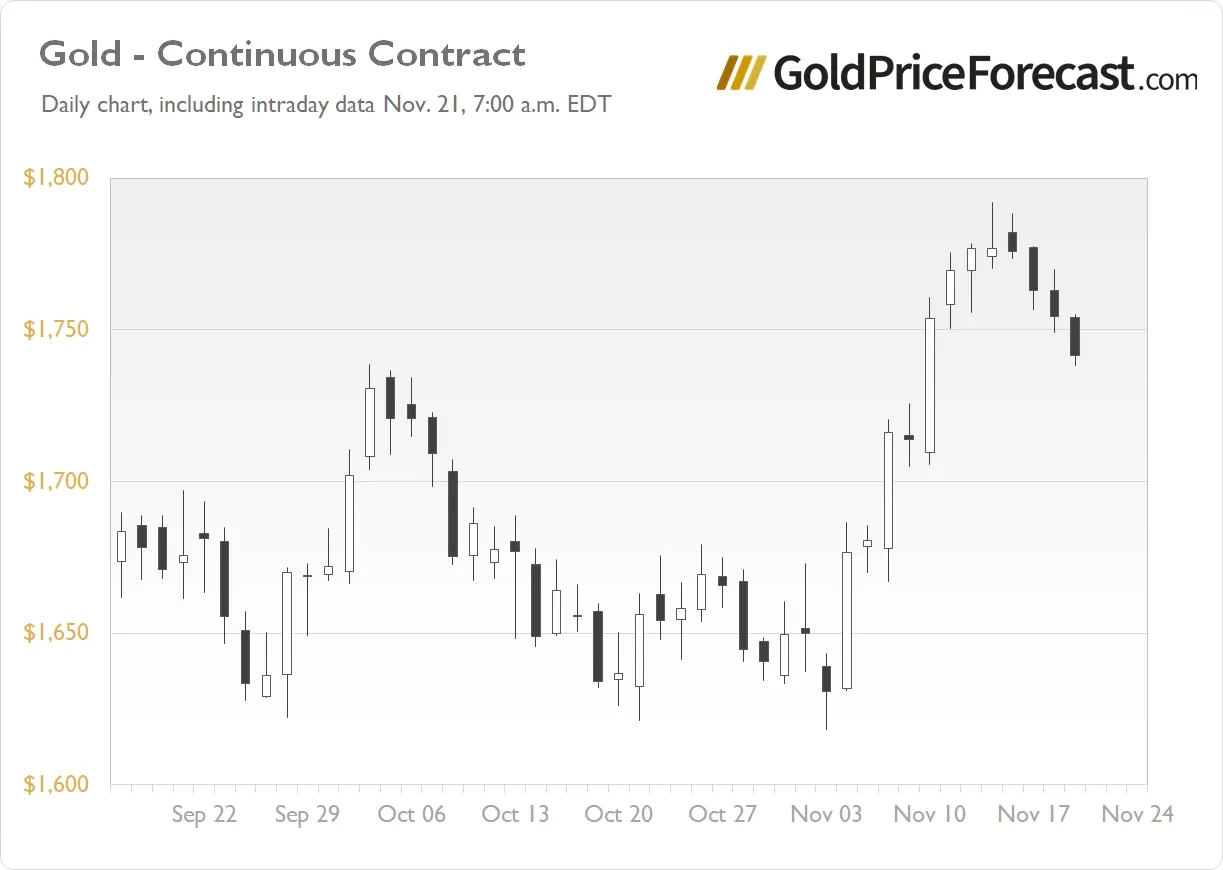 Today, gold price is 0.7% lower, as it is trading below the $1,750 level. What about the other precious metals? Silver is 1.7% lower, platinum is 1.1% lower and palladium is 2.7% lower. So the main precious metals' prices are lower this morning.
Friday's Existing Home Sales release has been slightly higher than expected at 4.43M. Today we won't get any new important economic data releases. The markets will be waiting for the Wednesday's PMI numbers, FOMC Meeting Minutes releases, among others.
Below you will find our Gold, Silver, and Mining Stocks economic news schedule for the next two trading days.
Monday, November 21
No important economic data releases
Tuesday, November 22
2:00 a.m. Australia - RBA Governor Lowe Speech
10:00 a.m. U.S. - Richmond Manufacturing Index
11:00 a.m. U.S. - FOMC Member Mester Speech
2:15 p.m. U.S. - FOMC Member George Speech
2:45 p.m. U.S. - FOMC Member Bullard Speech
All Day, Japan - Bank Holiday
Paul Rejczak
Stock Trading Strategist