Daily Gold News: Wednesday, November 16 – Gold Price Went Closer to $1,800
Gold reached new high yesterday, but geopolitical news brought back volatility.
The gold futures contract lost 0.01% on Tuesday, November 15, as it fluctuated following the recent advances. It reached new medium-term high of $1,791.80, but it reversed its intraday upward course following news of the Russia-Ukraine conflict escalation. This morning gold is trading within its yesterday's daily range, as we can see on the daily chart (the chart includes today's intraday data):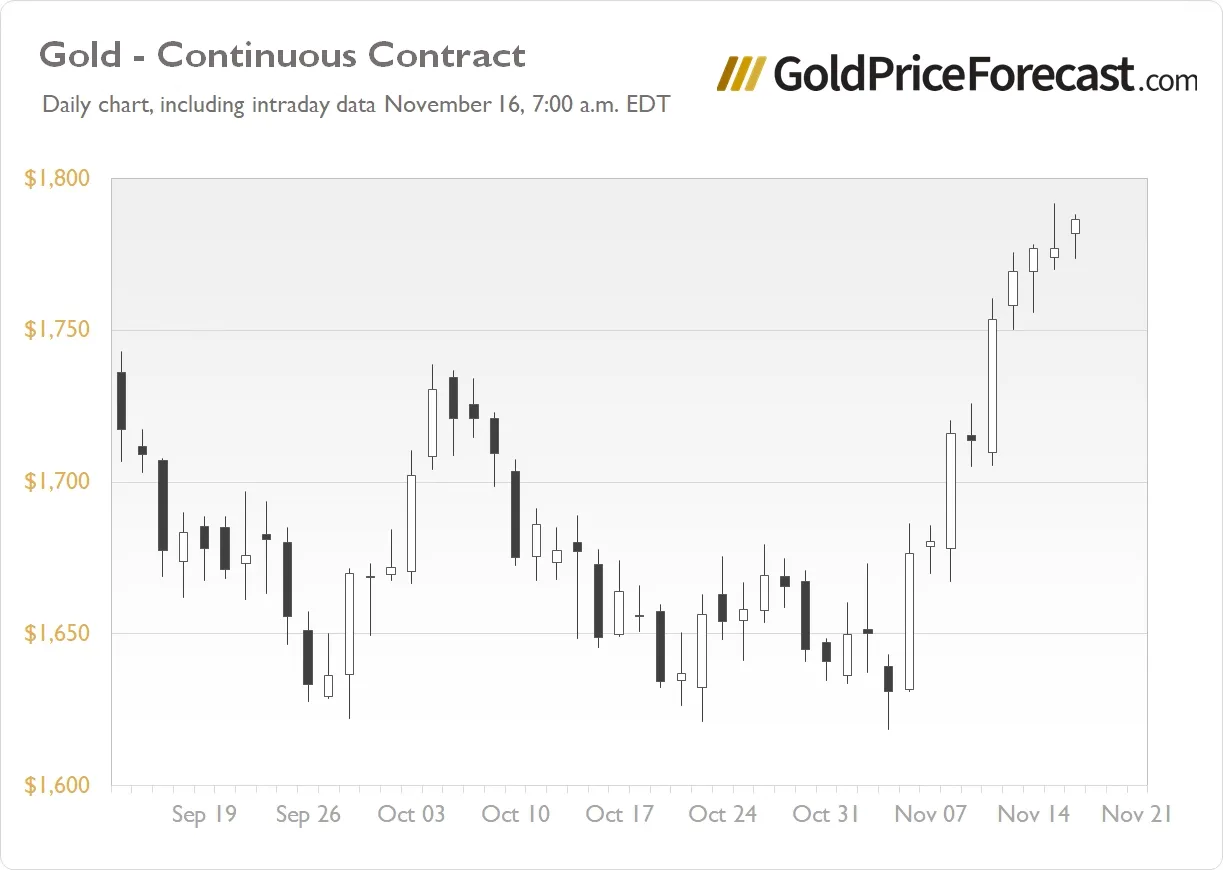 Today, gold is 0.2% higher, as it is trading above the $1,780 price level. What about the other precious metals? Silver is 2.0% higher, platinum is 0.1% higher and palladium is 1.1% lower. So the main precious metals' prices are higher this morning.
Yesterday's important Producer Price Index release has been lower than expected at +0.2% m/m and the Empire State Manufacturing Index release has been higher than expected at +4.5. Today we will get series of economic data releases, including the Retail Sales at 8:30 a.m. and the Industrial Production at 9:15 a.m.
Below you will find our Gold, Silver, and Mining Stocks economic news schedule for the next two trading days.
Wednesday, November 16
2:00 a.m. U.K. - CPI y/y, Core CPI y/y
8:30 a.m. U.S. - Retail Sales m/m, Core Retail Sales m/m, Import Prices m/m
8:30 a.m. Canada - CPI m/m, Median CPI y/y, Trimmed CPI y/y, Common CPI y/y, Core CPI m/m
9:15 a.m. U.S. - Industrial Production m/m, Capacity Utilization Rate
9:15 a.m. U.K. - Monetary Policy Report Hearings
9:50 a.m. U.S. - FOMC Member Williams Speech
10:00 a.m. U.S. - Business Inventories m/m, NAHB Housing Market Index, FOMC Member Barr Speech
10:00 a.m. Eurozone - ECB President Lagarde Speech
2:35 p.m. U.S. - FOMC Member Waller Speech
7:30 p.m. Australia - Employment Change, Unemployment Rate
Tentative, Eurozone - ECB Financial Stability Review
All Day - G20 Meetings
Thursday, November 17
8:00 a.m. U.S. - FOMC Member Bullard Speech
8:30 a.m. U.S. - Philly Fed Manufacturing Index, Unemployment Claims, Building Permits, Housing Starts
9:15 a.m. U.S. - FOMC Member Bowman Speech
9:40 a.m. U.S. - FOMC Member Mester Speech
10:40 a.m. U.S. - FOMC Member Jefferson Speech
Tentative, U.K. - Autumn Forecast Statement
Paul Rejczak
Stock Trading Strategist